http://3.bp.blogspot.com/_QdZJN3wDpQQ/SPKPsnQgZII/AAAAAAAAAAM/jysXf1gOLCk/S1600-R/banner.jpg
Tuesday, June 2, 2009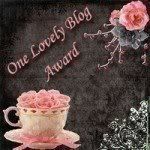 ... what an honor to be awarded by a fellow artisan.
ColtPixy.com
awarded this to me and several others, check out her blog so you can then click on all the great blogs she's stumbled across. I've also been tagged by
LibertyDoll.blogspot.com
. I'm going to list some favorite blogs of mine for you to go explore...then I'm supposed to list seven random facts about myself....we'll see how that goes. First some favorites...
5PreciousThings.blogspot.com
(all the way from Scottland)
AllenCapoferri.blogspot.com
(I can't seem to leave him a comment but love his art)
AndrewsReclaimed.blogspot.com
(very cool bird, butterfly, bat houses)
ArtDollsbyNat.blogspot.com
(random fact, I love handmade dolls)
Moonstone.tumblr.com
(
Moonstone.ArtFire.com
an amazingly generous artisan)
ArtisticAbstraction.blogspot.com
(another very cool, very colorful artist)
BeedeeBabee.blogspot.com
(really pretty pieces you'll find here)
CatherinetteRings.blogspot.com
(very cool Steampunk)
CottageGardenStudio.blogspot.com
(namaste Sarah)
MichellePerkett.blogspot.com
(she's a very whimsical artist)
JoyceStahl.blogspot.com
(you have to go see her dolls, they'll make you giggle)
Kathleen-Coy.blogspot.com
(you must go visit Cloud)
RainwolfStudios.blogspot.com
(wish I could travel to all the places she's photographed)
ThatstheWaytheCupcakeCrumbles.blogspot.com
(my niece! future pastry chef )
TheFairiesNest.blogspot.com
(more amazing dolls..random fact, I love scifi fantasy books)
CarpeBiblio.com
(my brother the bibliophile)
CeilingTrainKit.com
(my other half...random fact...we have trains in almost every room here)
Whew...few other random facts...I'm quirky, colorful in my work, my hair started to turn silver at the tender age of ten, I could lay on the porch for hours watching for just one more shooting star, often hear myself wishing that sleep was not so important.
I'm hoping you'll all leave comments as you visit these blogs and let them know how wonderful they all are. Guess you can't do that with the .com's but they do have counters! Have a great week and enjoy doing a little internet exploring.
Posted by

Kimberly
at 9:05 PM
9 comments: